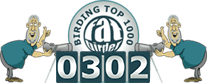 The Collection Birds of Peninsular Malaysia ( Burung - burung di Semenanjung Malaysia)
Monday, June 6, 2016
Pertama kali dapat lihat di Pulau Langkawi. Dan ketika itu ia hinggap di dahan pohon kekabu yang tinggi. Tapi kali ini ia berkeliaran mencari makan di atas tanah. Agak liar dan begitu sensitif dengan kehadiran aku ketika itu.
With Fadli; Padi Field Kepala Batas, Kedah
Photos on the 2018 version, but still not as easy to get closer. Loc: Langkawi Island
Posted by

Zul Ya Birder
at 12:03 AM
No comments:


Links to this post
Sunday, June 5, 2016
Loc: Kedah
Merupakan burung hijrah dan memiliki paruh sedikit berlubang. Itulah nama yang digelarkan, bersesuain degan sifatnya. Kehadirannya disenangi oleh petani kerana ia memakan siput gondang, yang memakan benih padi yang disemai oleh petani.
Evening Sunset, Kepala Batas, Kedah
Posted by

Zul Ya Birder
at 11:50 PM
No comments:


Links to this post